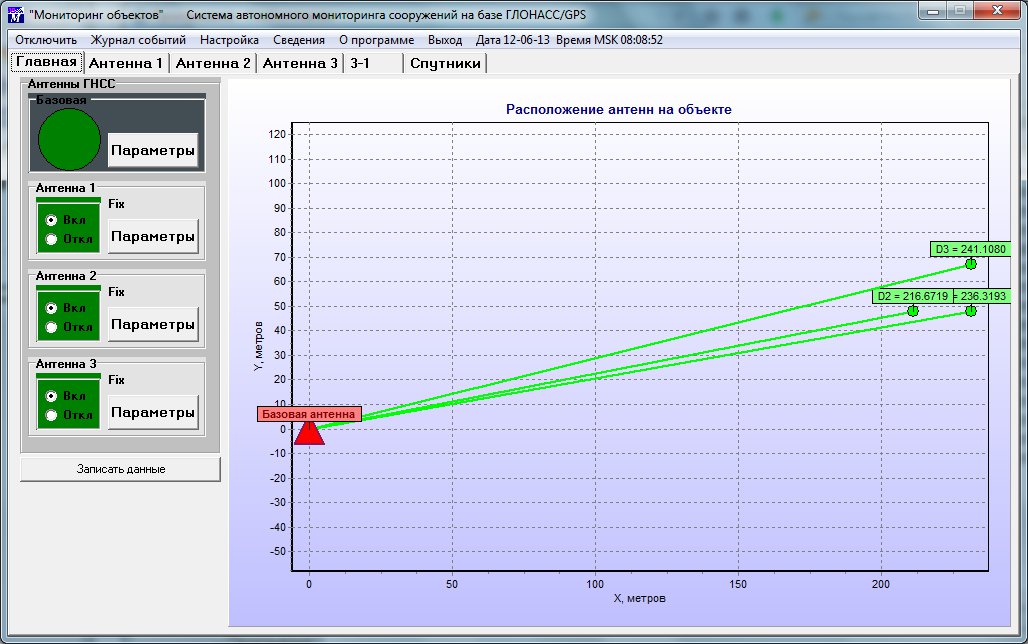 Monitoring systems for the building/infrastructure deformation, slopes and mobile grounds
The main purpose of the system is the permanent any weather monitoring of the natural and technogenic shifts of the ground in the different areas of the human activity and generation of the alarms in case of the edge level of the deformation shift. This system is based on the precession GNSS technology allowing to catch the ground shifts with 1-2 centimeter accuracy in the real time or with the millimeter accuracy in the long term monitoring mode. The following things make this system very effective:
High accuracy positioning;
The line of sight between the monitored points is not required;
Weather independent;
Automatic permanent monitoring of the geomassiv;
Ability to work in the conditions difficult for other device monitoring.
Main system functions are following:
Collecting and centralized processing of the primary measuring GNSS data; automatic calculation with the precession accuracy (in the real time and in the long term monitoring mode) of the absolute and mutual shifts of the control markers at the geomassiv (at the points of GNSS sensors installation);
Evaluation of the geomassiv position changing during the given period;
Generation and transmission to the Control Centers of alarms in case the slide shift achieves the edge value;
visual real time presentation (numeric, graphical, mnemonic) of the ground position parameters at the Control Center or at the Remote Consoles;
Managing the log for the ground shift monitoring.
Typical set of equipment for the mobile ground monitoring system:
2-6 GNSS sensors (one or more is assigned like a base one and is installed at the static base);
Processor module for the precession navigation (it works like a system server);
Operator position + APM software;
Communication and the power supply means.
Depending on the topology of the monitored area wire lines or radio links can be used between the parts of the system.
Typical accuracy of the sensors superposition definition:
in the real time: 5-10 mm;
in the quasi-static mode: 2-4 mm.